Bei uns finden sie ein hochwertiges Sortiment von 10 Marken und 55 Modellen namhafter Hersteller! Gerne beraten wir Sie persönlich und kompetent bei uns in der Hartwarenabteilung.

We offer a high quality range of 10 brands and 55 models from leading manufacturers! We are happy to advise you personally and competently in our hardware department.
We hand pick the best boards and bindings from brands including Burton, Ride, Nitro, Arbor and Salomon snowboards.
We are passionate about snowboarding and carry a wide range of stock to cater for everyone's needs and disciplines.
Wann ist es Zeit für einen neuen Helm?
Nach drei bis fünf Jahren sollte man den Helm wechseln. Denn Sonneneinstrahlung und Kälte setzen auch dem besten Material so zu, dass es an Bruchsicherheit und Stabilität verliert. Das Risiko, dass Ihr alter Helm Sie bei einem Sturz oder Zusammenprall nicht mehr richtig schützt, wird mit den Jahren immer höher.

When is it time for a new helmet?
After three to five years, you should change your helmet. Sunlight and cold affect even the best materials so that in time they lose their stability and resistance to breakage. The risk that your old helmet does not adequately protect you, during a fall or collision, is always higher with the passing years.

Ein langer Skitag hinterlässt seine Spuren nicht nur im Schnee. Auch der Belag Ihres Skis kann durch Eis, Steine und Zweige zerkratzt und beschädigt werden. Die Folgen sind weniger Fahrkomfort, mehr Kraftaufwand und erhöhte Unfallgefahr durch stumpfe Kanten. Mit modernster Schleiftechnik verpassen wir Ihren Skis und Boards in 30 Minuten den perfekten Schliff und machen sie wieder fit für die Piste.

A long day of skiing leaves its' mark not only in the snow. The base of your skis can be scratched and damaged by ice, rocks and branches. The consequences are less ride comfort, more effort, and increased risk of accidents due to blunt edges. Using the latest grinding technology we make your rental skis and snowboards fit for the piste again.
Nutzen sie die Möglichkeit! Bei uns können Sie die Neuheiten und Innovationen der Saison vor dem Kauf auf dem Schnee testen. Fragen Sie unsere Mitarbeiter nach Test & Buy! Gerne informieren wir Sie unverbindlich über die aktuellen Neuheiten und Angebote.

Take the opportunity! With us you can test the new products and innovations of the season on the snow before buying. Ask our staff for Test & Buy! We are happy to inform you about the latest news and offers.
Rodel & Schlitten
Wir führen ein Sortiment an exklusiven Renn- und Alurodel, div. Holzschlitten von Gross bis Klein.

We carry a wide range of exclusive racing and aluminium sledges, plus various wooden toboggans both large and small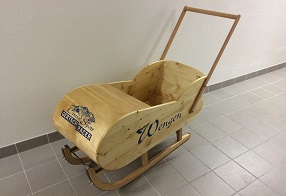 Special Products
Handgefertigte Replica-Kinderkastenschlitten aus den 50iger Jahren mit individuellem Design, handgemachte Lederkissen und Kinder-Gurtband.

Handmade replica individually designed 1950's childrens box sledge, with handmade leather cushions and child harness.